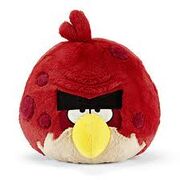 A giant cardinal with many spots on his body. He has a beak, black eyebrows, wrinkles, and a black tail. He is basically a bigger, older version of Red Bird.
He loves reading notes, even though he isn't that great at reading.
He's also known as: Big Brother Bird, Big Bro, Big Red, Red Bird's Brother, Dark Red Bird, Terence, and Fat Bird.
He is a brother to the Red Bird. Many people makes a fanon, about Big Brother is Red Bird's father, but this is not possibly true, he's a brother to him.
He is the only bird to not hate Red Bird's Grandfather.
In the original Angry Birds series, Terence can't talk or move voluntairly on screen, but in this series, he can talk and move onscreen.
Like White bird, he often takes craps.